Attention : All concerned P5 Parents with Children Who Are Taking SA2 in October
The September Holidays is about to start and you realised that your child had issues with problem sums in the recent CA2 Exams. Once glance at their marks and you simply cannot hide your disappointment.
You wanted to tell him that - You will do better next time. . . . . But when will the "Next Time" come. You know that these learning problems have not be addressed fully in school during Term time and this is one major reason why your child did not do well in CA2. If this problem persist, it will definitely limit the choices on the stream and school he is able to enter.
Every parent would want to see their children perform to the best of their ability. But . . . your child keep falling short of your expectation. You are frustrated and wanted all these learning issues to be addressed once and for all. 
Count Down To SA2 Exam : 26 Oct 2017

---
The clock is ticking fast . . . Time is not on your side. SA2 is less than 65 days away.
You can't allow your child to use strategies that are not effective to solve problem sums anymore.

You can't allow your child's confidence in learning to slide further downhill.

You can't allow your child's bright future to disappear before your eyes. 
Take Charge of Your Child's Learning This September
The September holidays is a crucial time for P5 students to bridge their learning gap and strengthen their key concepts. If he received the proper guidance, this might be the point whereby he could turn-around his results.
September Holidays Programme
As part of our Problem Sums Mastery Series, we are organising a series of workshops to help students bridge the knowledge gap and strengthen their ability to solve non-routine problem sums. The workshops are designed by our chief-trainer, Mr Chris Siew, an ex-HOD and consultant with a leading textbook publisher with 14 years experience.
Success Story of Our Past Participants
He Jumped 2 Grades and Scored a B for His Prelims
Lakshmanan did not do well for his SA1. His parents registered him for our June Bootcamp to improve his results. During the Bootcamp, he was exposed to the exact strategies that our regular students used to achieve 10-15 marks improvement within a short time. He was amazed at the strategies introduced was so simple yet so effective. He practiced the strategies regularly after the Bootcamp, and used it as part of his revision. He surprised everyone by scoring a B during his prelims. His father told us that although they have to travel all the way from Yishun to Parkway Centre, it was all worth it.
Lakshmaman, Jie Min Pri Sch (2016)
From D(SA1) to B (PSLE)

---
Your Child Can Be This Year's Success Story

---
P5 SA2 Preparation Bootcamp
With SA2 in 2 months away, the September Holiday is the most crucial period to get your child prepared for this major exam. The highlights for this programme are the comprehensive revision of major topics and the coverage of problem sums strategies that are commonly tested in SA2.
Using our proven S.C.O.R.E. Learning System, this Bootcamp seeks to help students strengthen their conceptual understanding, sharpen their problem solving skills and get them ready for the SA2 exams in October.
1.Topical Revision

Whole Numbers/ Fractions/ Ratio
Percentage/ Volume
2. Problem Solving Heuristics

Draw a diagram/model, Make a list/table, Guess and Check,
Looking for a pattern, Working Backwards, Number x Value
Constant Part, Constant Total, Constant Difference, Units and Parts

3.How to Reduce Careless Mistakes During Exams
4.Exam skills and answering techniques
5.Review your child's strength and weaknesses
Run 5.1 (2 days x 3 hrs)
7-Sep (Thu) to 8-Sep (Fri), 2pm - 5pm
Fees : $ 220 per workshop
Our September Holidays Programme is based on our proven pedagogy

 -the "

S.C.O.R.E.

"

System

; and it has helped hundreds of students made an extra 10-15 marks in the actual exams.
Maths Accelerator Centre
1 Marine Parade Central, #12-03 Parkway Centre, Singapore 449408
Tel : 8725 7203 (Call/SMS) , Email : info@pslemathcoach.com

---

---
THESE STRATEGIES HAVE BEEN RESPONSIBLE FOR MASSIVE IMPROVEMENT IN STUDENTS MATH SCORE (DONE RIGHT, STUDENTS WILL SEE MARKED IMPROVEMENT WITHIN 60 DAYS)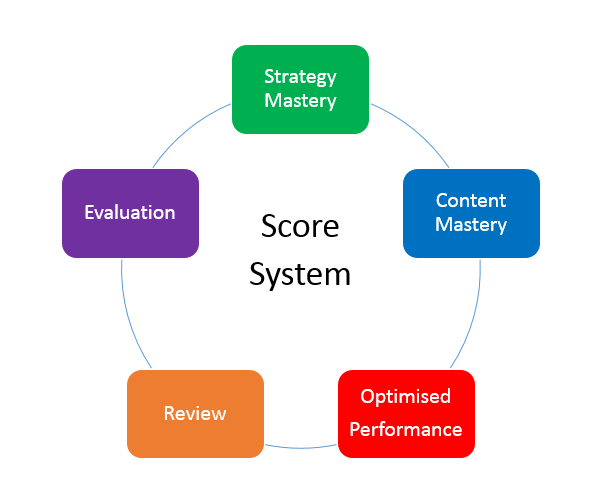 Strategy Mastery  (S) – At different stages of learning, we lead the students through a series of exploration to help them understand the strategies needed to solve various complex problem sums. This experiential learning approach has been proven to help students acquire understanding of maths strategies.
Content Mastery (C) – For each topic, effective teaching approaches and questioning techniques are used to help the student understand the underlying concepts. We make a conscious effort to help students link the content with the related strategies to help them solve complex problem sums.
Optimized Performance (O) - This is the application stage where students integrate both content knowledge with the strategies. We introduce exam questions extracted from top school papers. Through guided practice, students' mathematical skills are sharpened to optimal level.
Review Performance (R) – At the end of each major topic, we will conduct a comprehensive review and communicate the students' strength and weaknesses to parents. This ensures that weak areas are fully addressed before each major exams.
Evaluation (E) : At the end of each stage of learning, our tutors will engage your child in reflection and help them consolidate their learning, construct memory maps to ensure that they can retrieve what they've learnt easily during assessments.
Using our system, our P6(2016) Students achieved the following outstanding PSLE Results!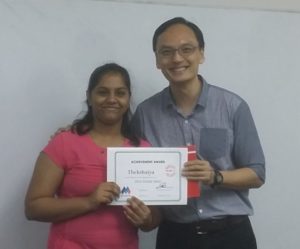 She did it . . . Jumped 3 Grades from D to A
Thekshaiya was initially struggling with problem sums in P5 before joining our programme. Using our system, she has progress from a D to A grade within 1 semester.
==============
"Thank you for all your efforts and teaching. Her confidence in maths has been restored. We will continue to work with you to help her reach her best"
Thekshaiya's mum (D to A)
Jie Min Pri Sch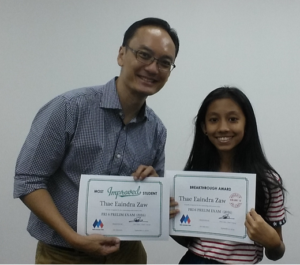 She couldn't believe it . . . Jumped 2 Grades and improved 23 marks
Eaindra was frustrated as her marks has been hovering around the 50s region since the beginning of P5. She wanted a breakthrough badly.
==============
"Thank you for helping her getting an A in prelims. Your teaching and encouragement has been very effective"
Eaindra's dad (C to A)
Jie Min Pri Sch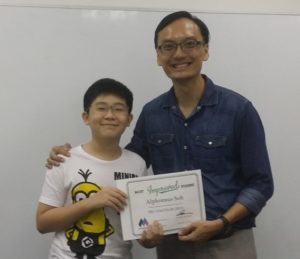 He was shocked . . . Jumped 3 Grades fr E to B
Alphonsus had a hard time catching up with the lesson in school. Model drawing and Before-After concepts are some of his major challenges. 
==============
"Thanks for your patience and guidance. Alphonsus has certainly benefited from your teaching. Do continue your wonderful mission to uplift more students who are weak in maths."
Alphonsus's dad (E to B)
Pei Tong Pri Sch
If you have any questions, do feel free to contact us. Just complete the form below and we will get back to you shortly.